MCHA License Plates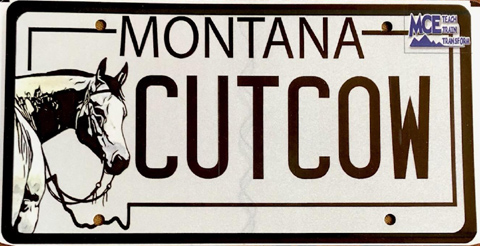 MCHA is proud to introduce their new plate design!
We would like to extend a huge THANK YOU to Todd & Lee Wirthlin of TLC Ranch for all their hard work on the production of the updated plate.
Time to renew your vehicle or trailer license plates? Consider updating your plates to the Montana Cutting Horse Association license plate.
Through the State of Montana, Montana Motor Vehicle Division, "Sponsored Plates" are available for purchase by those licensing vehicles and trailers within the State of Montana. The Montana Cutting Horse Association sponsored plate has been available since November 2010, when introduced by then MCHA President, Todd Wirthlin. By purchasing these plates, people show their support for our organization and promote the sport we love, as well as make a financial contribution to its work.
Consider showing your passion for cutting and create exposure of our western way of life through your Montana Cutting Horse Association license plate! To inquire about the plate, contact your County Treasurer Motor Vehicle Office:
https://dojmt.gov/media-item/montana-cutting-horse-association-2/