Welcome!
Welcome to the Montana Cutting Horse Association. The purpose of the MCHA shall be to encourage education in equine activities, interest in cutting horses and to promote the sport of cutting in and around the State of Montana.
Miller's Horse Palace Summer Spectacular
Watch Live during the show!
---
** COVID-19 INFORMATION **
Due to the coronavirus pandemic, please note that shows may be cancelled without much notice. We try to keep our schedule page up to date as information comes in, so please check it frequently before making plans. After much debate and careful consideration, the MCHA board has decided to pull its approval of any shows scheduled prior to May 17th. We will continue to stay on top of latest developments and keep our membership informed as best we can.
Thank you
2020 MCHA BOD
FROM THE NCHA
May 20, 2020
NCHA REINSTATES WORLD STANDINGS AND PROGRAMS
FORT WORTH – The National Cutting Horse Association (NCHA) will reinstate the world standings and award programs beginning June 3rd. These standings will include Amateur Horse and Rider of the Year, Non-Pro and Open Horse of the Year, Rookie of the Year, Senior World Tour, World, Youth World and Youth Rookie of the Year Standings.
With the reinstatement of the NCHA world standings and programs, the expediated show approval process will expire on June 2nd. The NCHA show approval process will return to the original approval timelines.
NCHA earnings won during the moratorium, March 18th through June 2nd, will not count towards NCHA rider and horse eligibility, including the $2,000 Limited Rider class. The NCHA Executive Committee voted on and passed that earnings accumulated during this time will apply to lifetime earnings and NCHA achievement awards.
The NCHA understands that some regions will still not be able to return to competition due to government regulations. Alternative options are being evaluated regarding the terms for qualifying and eligibility at the 2020 World Finals, scheduled for this fall in Fort Worth, Texas. More details will be forthcoming.
---
GET YOUR LICENSE PLATE BEFORE THEY'RE GONE!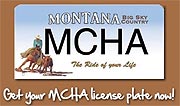 The State of Montana has granted a grace period for specialty license plates in danger of being revoked. We have until July 1, 2020 to reach our goal of 400 registered plates across the State. Please note that most, if not all, counties do not carry the plate in stock any longer; you must request the plate and have it sent to you. Also, the plates on display may be marked "No Longer Available" THIS IS NOT TRUE! You simply have to request them.
Next time you register or renew a vehicle or wish to purchase a new plate for your horse trailer, ask for the MCHA plate! This is a HUGE part of MCHA's income, help support MCHA! Click here for more information
---
2020 Show Schedule
Please visit our show schedule page for entry forms and info.
April 17-19
Millers Horse Palace - POSTPONED!!
Laurel, MT
May 8-9
UCHA Ogden Cutting - CANCELLED!!
Ogden, UT
May 9-10
Wyoming CHA - RESCHEDULED to August
Wright, WY
June 5-7
Millers Horse Palace
Laurel, MT
June 11-14
Crazy Mountain Cutting
Click for info
Click to enter online
Click for Draws/Results
Livingston, MT
June 12-14
Montana CHA - POSTPONED!!
Dillon, MT

June 21-27

Western Nationals
**NCHA Event, money does not count towards MCHA standings

Denver, CO

July 3-5
Seven Bar Ranch Cutting
Saratoga, WY
July 17-19
Hi - Line Cutting
Glasgow, MT

July 30-Aug 2

NCHA Convention - CANCELLED!!

Fort Worth, TX

July 31-Aug 2
Wyoming CHA
Wright, WY
August 12-16

Montana CHA
*an extra day may be added (August 12th)
Big Piney, WY

September 3-6
Crazy Mountain Cutting Fall Show
Livingston, MT
October 2-3
Millers Horse Palace
*dates subject to change
Laurel, MT
---
CONGRATULATIONS TO OUR YEAR END CHAMPS!
Visit our photo gallery to view banquet pictures.
2019 CLASS CHAMPIONS

One Smart Bobbie Sock:
Open, $25,000 Novice Horse, & MCHA Open Horse of the Year
Rider: Wylie Fraser
Owner: Helen Larsen

Cindy Mann:
Non-Pro Horse: MJ Magic Time

Cody Lee:
$50,000 Amateur Horse: Shez Spotless

Lori Crowell:
$35,000 Non Pro, $15,000 Amateur
Horse: PRF Zacks Passion
(Not Pictured)
Hott On Your Heels:
$5,000 Novice Horse
Rider: Will Nuttall
Owner: Trout Creek Ranch

Dual Smooth:
$25,000 Novice Horse Non Pro
Rider: Kelsey Fraser
Owner: Rob Fraser

Boon A Litl More:
$5,000 Novice Horse Non Pro
Rider: Cindy Fraser
Owner: Rob Fraser

Jessica Lee:
$2,000 Limit Rider
Horse: SDP Hot Cat
Owner: Darrell Lee

Senior Youth:
Mia Webster

Junior Youth:
Faith Showalter
(Not Pictured)
Magic Rays:
Open Derby & Open LAE Horse of the Year
Rider: Russ Miller
Owner: Bill White Ranches LLC
(Not Pictured)
Rachel Showalter:
Non Pro Derby Horse: Snake Shot
(Not Pictured)
Dual Smart Bliss:
Open Classic
Rider: Russ Miller
Owner: 7R Ranch LLC

Vicki Morrow:
Non Pro Classic
Horse: Wired Wabbit

Non Pro/Amateur Horse of the Year:
Missnjethro Woody
Owner: Joe Kalt
MCHA Most Money Won – Non Pro or Amateur: Robert Keith
MCHA LAE Most Money Won – Non Pro or Amateur: David Miller
MCHA Adult Rookie of the Year: Mckenzie Hadlock
MCHA Youth Rookie of the Year: Kylee Williams
MCHA SWT Most Money Won: Joe Kalt
Kim Asay Award: Steve James
---
Bronze Sponsors
Susan Swanberg
Rankin Enterprises
Nancy LaCounte and Rita Church
Doyl & Jacqueline Fritz
Hayden Heaphy
---
NWAB Sponsors
Tegeler & Associates Insurance - WY
Prairie States Insurance Agency
Suzanne Nellen
Dorothy & John Seymour
---
Youth Sponsors
The Dvarishkis Family
Williams Horse and Cattle Company
Renea & Cory Williams
---
We want you to be an MCHA member!!!
2020 Membership Prices
Individual Membership - $35
Family Membership- $50 (Immediate family members to include Husband, Wife, and Children)
Youth Membership - $10
click here for membership application.
---
Event Photo Galleries
Be sure to check out our photo galleries!
Click here to view.
---