Welcome!
Welcome to the Montana Cutting Horse Association. The purpose of the MCHA shall be to encourage education in equine activities, interest in cutting horses and to promote the sport of cutting in and around the State of Montana.
COMING UP NEXT
Big Piney, WY
August 11-17
Click for schedule only
Click for info/schedule
Click here for online entry
Click here for confirmations/draws/results
Click here for stall form
Click here for trainers stall breakdown
CONGRATULATIONS
Congratulations to our July Beaverhead County Cutting Circuit Award Winners!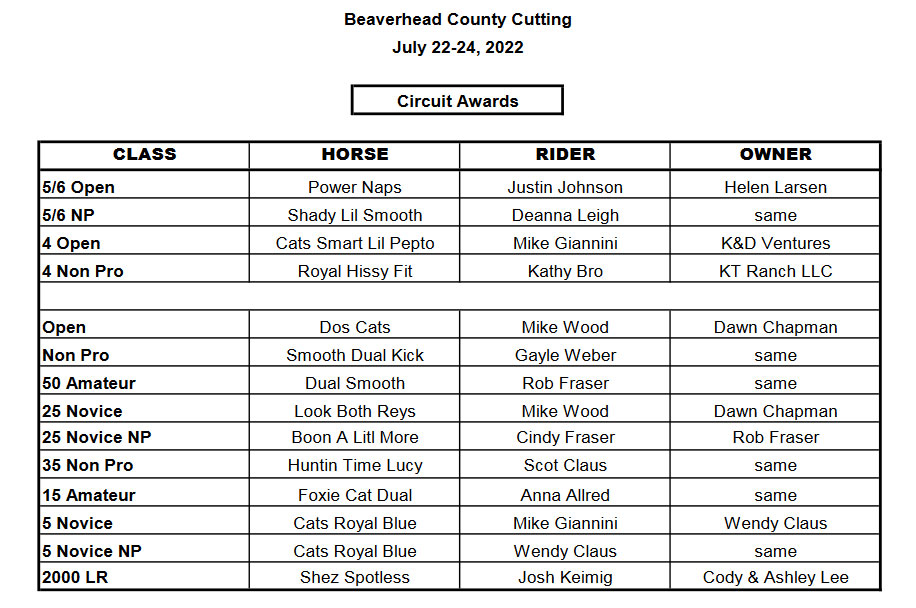 ---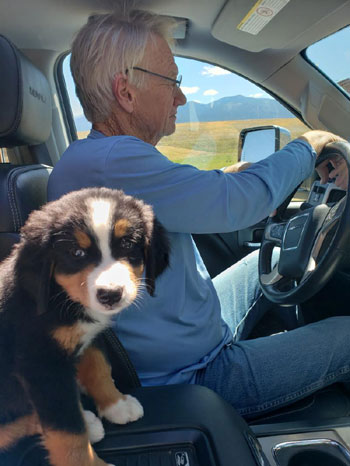 MCHA was saddened to hear about the passing of John Bostedt last week. John was a long time MCHA member and supporter. Our condolences go out to his family.
---
Happy Spring in Montana! I guess if this is what it takes to get some moisture - I'm in!!! As Vice President of the Montana Cutting Horse Association, it falls on me to chair the Show Committee and to advise and assist show management. Since we are just days away from our first show in Montana, I thought it would be timely to let our members know of a few policies we are implementing.
You've probably noticed already that most shows are asking for entries well in advance of your arrival at the venue. And, at most of our Montana shows, we are asking exhibitors to send in a stall reservation form with either a check or your credit card number. There are several reasons for these policies:
Cattle are hard to come by and are getting more and more expensive - it helps show management immensely if they can have an accurate assessment of numbers for each day,
Most of our venues have a limited number of stalls, and/or are bringing in portable stalls for the cutting. It goes without saying stalls are a valuable commodity, so we are asking for a deposit so we can assure we are maximizing our use of available stalling.
We want each exhibitor to have the best show experience possible - so we will try to make sure you know where you are stalled - but in order to do that, we need a little lead time!
MCHA is working very hard to produce quality cuttings and trying to take your suggestions and comments into consideration where we can! If you have thoughts or concerns, please talk to the Board, we can only deal with the issues we actually hear about!
Happy Spring and Happy Cutting!
Peri
---
GET YOUR MCHA LICENSE PLATE FOR A CHANCE TO WIN $5000!
MCHA is proud to introduce their new plate design! We would like to extend a huge THANK YOU to Todd & Lee Wirthlin of TLC Ranch for all their hard work on the production of the updated plate.
Next time you register or renew a vehicle or wish to purchase a new plate for your horse trailer, ask for the MCHA plate! This is a HUGE part of MCHA's income, help support MCHA! Click here for more information
---
2022 Show Schedule
Visit our show schedule page for show flyers
| | | | |
| --- | --- | --- | --- |
| Date | Show | Circuit Approval | Location |
| January 17-19 | Black Hills Stock Show | Big Sky | Rapid City, SD |
| March 23-27 | Idaho CHA | Pioneer, Big Sky | Nampa, ID |
| May 7-8 | Montana CHA | Big Sky, Pioneer | Deer Lodge, MT |
| May 14-15 | Millers Horse Palace | Big Sky, Pioneer | Laurel, MT |
| June 3-5 | NCHA Convention | | Fort Worth, TX |
| June 9-12 | Montana CHA | Big Sky, Pioneer | Dillon, MT |
| June 23-26 | NCHA Weekend | | Ottawana, MN |
| July 15-17 | Wyoming CHA | Big Sky, Cactus | Torrington, WY |
| July 22-24 | Montana CHA | Big Sky, Pioneer | Dillon, MT |
| August 11-17 | Montana CHA | Big Sky, Pioneer, Cactus | Big Piney, WY |
| September 16-18 | Millers Horse Palace | Big Sky | Laurel, MT |
| Sept. 30-Oct. 2 | Montana CHA | Big Sky | Vaughn, MT |
| October 20-23 | Circuit Finals | | Rapid City, SD |
Please visit our show schedule page for entry forms and info.
Bronze Sponsors
Susan Swanberg
Rankin Enterprises
Nancy LaCounte and Rita Church
Doyl & Jacqueline Fritz
Hayden Heaphy
---
NWAB Sponsors
Tegeler & Associates Insurance - WY
Prairie States Insurance Agency
Suzanne Nellen
Dorothy & John Seymour
---
Youth Sponsors
The Dvarishkis Family
Williams Horse and Cattle Company
Renea & Cory Williams
---
We want you to be an MCHA member!!!
2022 Membership Prices
Individual Membership - $35
Family Membership- $50 (Immediate family members to include Husband, Wife, and Children)
Youth Membership - $10
click here for membership application.
---
Event Photo Galleries
Be sure to check out our photo galleries!
Click here to view.