Welcome!
Welcome to the Montana Cutting Horse Association. The purpose of the MCHA shall be to encourage education in equine activities, interest in cutting horses and to promote the sport of cutting in and around the State of Montana.
---
MCHA would like to extend our sincere condolences to the family of Porter Nuttall. Please know that our thoughts are with you at this difficult time.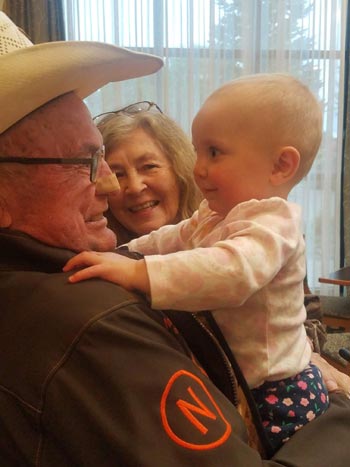 Pictured: Porter Nuttall & Porter Lane Nuttall
Nolan Porter Nuttall, 83, passed away Tuesday, July 21, 2020. Visitation will be held 10:00-11:00am, Monday, July 27, 2020 at the Sully County Fairgrounds with Funeral Services beginning at 11:00am. Interment will follow at the Onida Cemetery. If you are unable to attend Porter's service it will be broadcast live at www.feigum fh.com
Nolan Porter Nuttall was born September 5,1936 in Amherst Texas. He was the second of six sons born to Nolan and Lucile Nuttall. Porter was an energetic young man who worked with and competed with his brothers AL, Delvin and Byran on the family farm. The Nuttall family and their four oldest boys moved from west Texas to Sully County in December of 1954. He attended and graduated from Agar High School in 1955. He was also always considered a part of the 1955 graduating class of Amherst, Texas High School. CLICK HERE TO READ FULL OBITUARY....
---
** COVID-19 INFORMATION **
Due to the coronavirus pandemic, please note that shows may be cancelled without much notice. We try to keep our schedule page up to date as information comes in, so please check it frequently before making plans. After much debate and careful consideration, the MCHA board has decided to pull its approval of any shows scheduled prior to May 17th. We will continue to stay on top of latest developments and keep our membership informed as best we can.
Thank you
2020 MCHA BOD
FROM THE NCHA
Please remember to fill out the questionnaire that the NCHA recently emailed to all members regarding the $50,000 Amateur class and eligibility. Our own Peri Suerum has spent a lot of time and effort regarding this issue and it has obviously caught the attention of the NCHA Amateur Committee. Thanks for your cooperation!
---
GET YOUR MCHA LICENSE PLATE!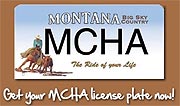 MCHA has reached it's goal of 400 plates! We want to thank all of those who purchased license plates for your vehicles and trailers! MCHA would like to especially thank Todd & Lee Wirthlin of TLC Ranch, for all of the hard work that was put into saving our license plate and for their generous donation of the Noble Shelter for the giveaway. We could not have reached the goal with out you!
Next time you register or renew a vehicle or wish to purchase a new plate for your horse trailer, ask for the MCHA plate! This is a HUGE part of MCHA's income, help support MCHA! Click here for more information
---
2020 Show Schedule
Please visit our show schedule page for entry forms and info.
---
CONGRATULATIONS to the Circuit Award winners from the Livingston show!
5/6 Open - Cfer, owned by Hank and Karen True, and shown by Kenny Platt
5/6 Non Pro - Taylor Swifty, owned and shown by Tracy Taylor
4 Open - RTR Reasontobelieve, owned by Redtail Ranch Performance Horses and shown by Dax Hadlock
4 Non Pro - Dok Hickok, owned and shown by Danielle Pace
Sr. Youth - Time for Dottie, Owned and shown by Molly Mae Ruth
Jr. Youth - Smart Jiminy Cricket, owned and shown by Wyatt Christianson
Open - Moms Stylish Player, owned by Robert Tregemba and shown by Kenny Platt
Non Pro - Coontail Cat, owned and shown by Jerry Gregory
$50,000 Amt - Shesa Spoonful A Fun, owned and shown by Jody Radomske
$25 NH - Indian Clay, owned by Paula Platt and shown by Kenny Platt
$25 NHNP - Reys Stylish Oak, owned and shown by Jack Christianson
$35 NP - Reys Stylish Oak, owned and shown by Jack Christianson
$15 AMT - Boon Cat 498, owned and shown by Sharmon Huber
$5 NH - Lil Pepto Tequiero, owned by Jon and Kathy Foote, and shown by Kenny Platt
$5 NHNP - Stylish Hallie Cat, owned and shown by James Brown
$2 LR - She Bea Cat, owned by Jim Crawford and shown by Ella Blazek
---
Bronze Sponsors
Susan Swanberg
Rankin Enterprises
Nancy LaCounte and Rita Church
Doyl & Jacqueline Fritz
Hayden Heaphy
---
NWAB Sponsors
Tegeler & Associates Insurance - WY
Prairie States Insurance Agency
Suzanne Nellen
Dorothy & John Seymour
---
Youth Sponsors
The Dvarishkis Family
Williams Horse and Cattle Company
Renea & Cory Williams
---
We want you to be an MCHA member!!!
2020 Membership Prices
Individual Membership - $35
Family Membership- $50 (Immediate family members to include Husband, Wife, and Children)
Youth Membership - $10
click here for membership application.
---
Event Photo Galleries
Be sure to check out our photo galleries!
Click here to view.
---