Welcome!
---
Welcome to the Montana Cutting Horse Association. The purpose of the MCHA shall be to encourage education in equine activities, interest in cutting horses and to promote the sport of cutting in and around the State of Montana.
---
'Help For Heidi' Benefit Auction
Heidi has been a long-time non-pro cutter in the northwest and a member of the NCHA for decades, serving both the NCHA and UCHA in many capacities over the years. She is an NCHA gold award rider with $271,932 in earnings. Heidi has two children, Paige Hadlock and Dax Hadlock, who are also very active in the NCHA. (Dax Hadlock, a trainer in Utah, qualified for 2020 World in the 25,000 Novice.) Heidi and her husband, Chad Evans, breed, raise and show cutting horses. Heidi has always been a bright light in the cutting horse community, offering positive advice and guidance to new members, as well as always being supportive of her friends and family. It is our turn to help Heidi.
Heidi suffered a second debilitating stroke this fall leaving her partially paralyzed on her right side. She will face months (possibly years) of rehabilitation in order to hopefully regain 100% of her quality of life. The "Help for Heidi" Heidi Hadlock-Evans Benefit Auction has been established as a fundraiser to help pay for medical expenses she will incur, due to her recent strokes.
Please consider helping Heidi by donating a breeding to your stallion or an item for the auction. Bid on items or stud fees and get a great price on an amazing stallion! Share the link and spread the word! The auction will run from January 2, 2021 through February 15, 2021.
---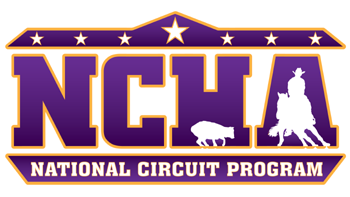 Check out "National Circuit Program" from National Cutting Horse - NCHA on Vimeo.
The video is available for your viewing pleasure at https://vimeo.com/478088847
NCHA ANNOUNCES NEW NATIONAL CIRCUIT
PROGRAM FOR 2021 POINT YEAR
The National Cutting Horse Association is proud to announce the new competition program for grassroot cutters: the National Circuit Program.
The circuit program started with an idea from the Weekend Committee and has since gone through a thorough vetting process that included numerous committees and directors. This program includes 12 regional circuits where cutters will compete for points at all NCHA-approved weekend competition.
With the structure of the National Circuit Program, competitors continue to earn money at weekend competition towards the NCHA World Finals while simultaneously earning points to go towards their circuit's regional finals – all at the same show in the same classes. The former Challenger Series will be reclassified as circuit shows, allowing for club cutters and smaller cutting organizations alike to produce and compete at an NCHA-sanctioned event while also earning points towards their circuit's regional finals.
"The weekend cutters are truly the backbone of this association, and we are really excited for what this program has to offer them," Jay Winborn, NCHA executive director said. "This program provides cutters from every region and across all levels the opportunity to compete for prestigious titles and awards on a national scale."
Beginning with the 2021 point year, all weekend championship shows and challenger series shows will be recognized as circuit shows. Throughout the year, competing members will earn points to qualify for their regional circuit finals. At the conclusion of the point year, each of the 12 circuits will host their regional finals inviting the top 30 competitors from each division to compete. The program has plans to grow and incorporate the National Circuit Finals beginning in the 2022 point year. The National Circuit Finals will invite the top competitors from each of the 12 regions to compete on the national stage.
For more information on the National Circuit Program, visit nchacutting.com/circuitprogram.
---
2021 Show Schedule
Visit our show schedule page for show flyers
Date
Show
Location
January 18-20
Black Hills Stock Show
Rapid City, SD
March 24-28
Idaho CHA Spring Show
Nampa, ID
April 16-18
Millers Horse Palace
Laurel, MT
April 21-25
Utah CHA Ogden Cutting
Ogden, UT
April 30-May 2
Wyoming CHA
Gillette, WY
May 13-16
Crazy Mountain Cutting #1
Livingston, MT
May 26-30
Crazy Mountain Cutting #2
Livingston, MT
June 4-6
NCHA Convention
Fort Worth, TX
June 10-13
Montana CHA
Dillon, MT
June 24-27
(pending)
5 C Arena
Corvallis, MT
June 26-July 3
Western Nationals
**NCHA Event, money does not count towards MCHA standings
Denver, CO
July 15-18
(pending)
406 Arena
Vaughn, MT
August 11-15
Montana CHA
Big Piney, WY
TBD- Sept
Crazy Mountain Cutting Fall Show
Livingston, MT
September 17-19
Millers Horse Palace
Laurel, MT
October 1-3
Circuit Finals
Gillette, WY
---
GET YOUR MCHA LICENSE PLATE!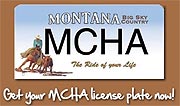 MCHA has reached it's goal of 400 plates! We want to thank all of those who purchased license plates for your vehicles and trailers! MCHA would like to especially thank Todd & Lee Wirthlin of TLC Ranch, for all of the hard work that was put into saving our license plate and for their generous donation of the Noble Shelter for the giveaway. We could not have reached the goal with out you!
Next time you register or renew a vehicle or wish to purchase a new plate for your horse trailer, ask for the MCHA plate! This is a HUGE part of MCHA's income, help support MCHA! Click here for more information
---
Please visit our show schedule page for entry forms and info.
Bronze Sponsors
Susan Swanberg
Rankin Enterprises
Nancy LaCounte and Rita Church
Doyl & Jacqueline Fritz
Hayden Heaphy
---
NWAB Sponsors
Tegeler & Associates Insurance - WY
Prairie States Insurance Agency
Suzanne Nellen
Dorothy & John Seymour
---
Youth Sponsors
The Dvarishkis Family
Williams Horse and Cattle Company
Renea & Cory Williams
---
We want you to be an MCHA member!!!
2021 Membership Prices
Individual Membership - $35
Family Membership- $50 (Immediate family members to include Husband, Wife, and Children)
Youth Membership - $10
click here for membership application.
---
Event Photo Galleries
Be sure to check out our photo galleries!
Click here to view.
---