Welcome!
Welcome to the Montana Cutting Horse Association. The purpose of the MCHA shall be to encourage education in equine activities, interest in cutting horses and to promote the sport of cutting in and around the State of Montana.
NOTICE!
THE YEAR END SHOW IS MMMOOOVING!
Miller's Horse Palace Laurel, MT will now be hosting!
October 6th to 8th
We unfortunately lost our cattle contract in Vaughn, and had to make the hard decision to move our MCHA year end show. The 406 Arena worked very hard to have their facility ready for us, and we appreciate all the effort they put forth. We will reschedule a show there in the Spring of 2023!
We are working on a location for the banquet in the Laurel/Billings area and will let everyone know ASAP.
The General Membership meeting will now take place Friday October 7th a half hour after the conclusion on the show.
Please give us a bit of time to update the website for online entries and show details.
In the meantime please contact Clayton Miller to reserve your stalls & RV plug ins: (406) 861-2064
Thank you, in advance, for your patience with us as we get all the details of the show worked out!
WATCH LIVE!
---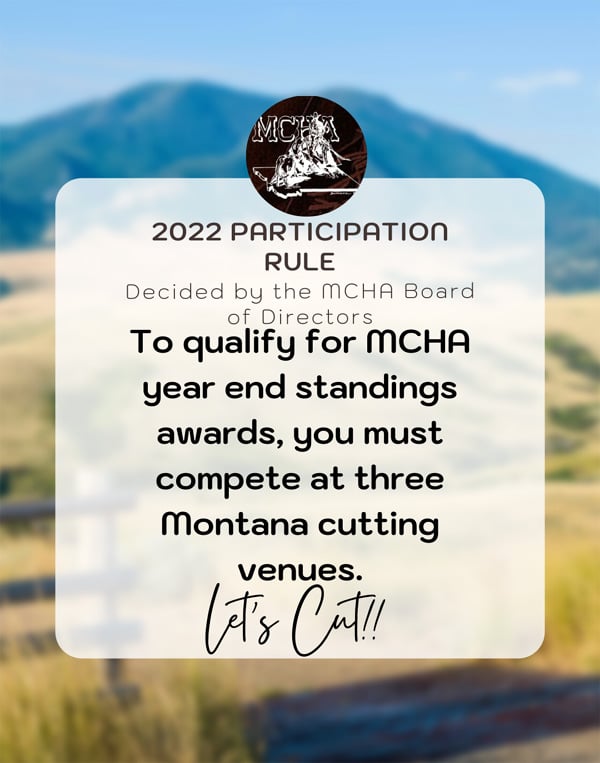 For the 2022 year end awards competitors must attend three IN STATE shows. The following are qualifying shows:
Cattle King Cutting, Deer Lodge, MT
Millers Horse Palace Spring Spectacular, Laurel, MT
#1 Beaverhead Cutting, Dillon, MT
#2 Beaverhead Cutting, Dillon, MT
Millers Horse Palace Fall Spectacular, Laurel, MT
Year End Show in the 406, Vaughn, MT
MCHA members have two more shows to qualify for awards!! Make plans to attend the Millers fall show and our Year End show in Vaughn. If there are any questions regarding your attendance or if you are qualified please email: info@montanacha.com. We look forward to seeing everyone at the next two shows!!
---
2022 Show Schedule
Visit our show schedule page for show flyers
Date
Show
Circuit Approval
Location
January 17-19
Black Hills Stock Show
Big Sky
Rapid City, SD
March 23-27
Idaho CHA
Pioneer, Big Sky
Nampa, ID
May 7-8
Montana CHA
Big Sky, Pioneer
Deer Lodge, MT
May 14-15
Millers Horse Palace
Big Sky, Pioneer
Laurel, MT

June 3-5

NCHA Convention

Fort Worth, TX

June 9-12
Montana CHA
Big Sky, Pioneer
Dillon, MT

June 23-26

NCHA Weekend

Ottawana, MN

July 15-17
Wyoming CHA
Big Sky, Cactus
Torrington, WY
July 22-24
Montana CHA
Big Sky, Pioneer
Dillon, MT
August 11-17
Montana CHA
Big Sky, Pioneer, Cactus
Big Piney, WY
September 15-18
Millers Horse Palace
Big Sky
Laurel, MT
October 6-8
Montana CHA Year End Show
Info coming soon!
Big Sky
Laurel, MT
October 20-23
Circuit Finals
Rapid City, SD
Please visit our show schedule page for entry forms and info.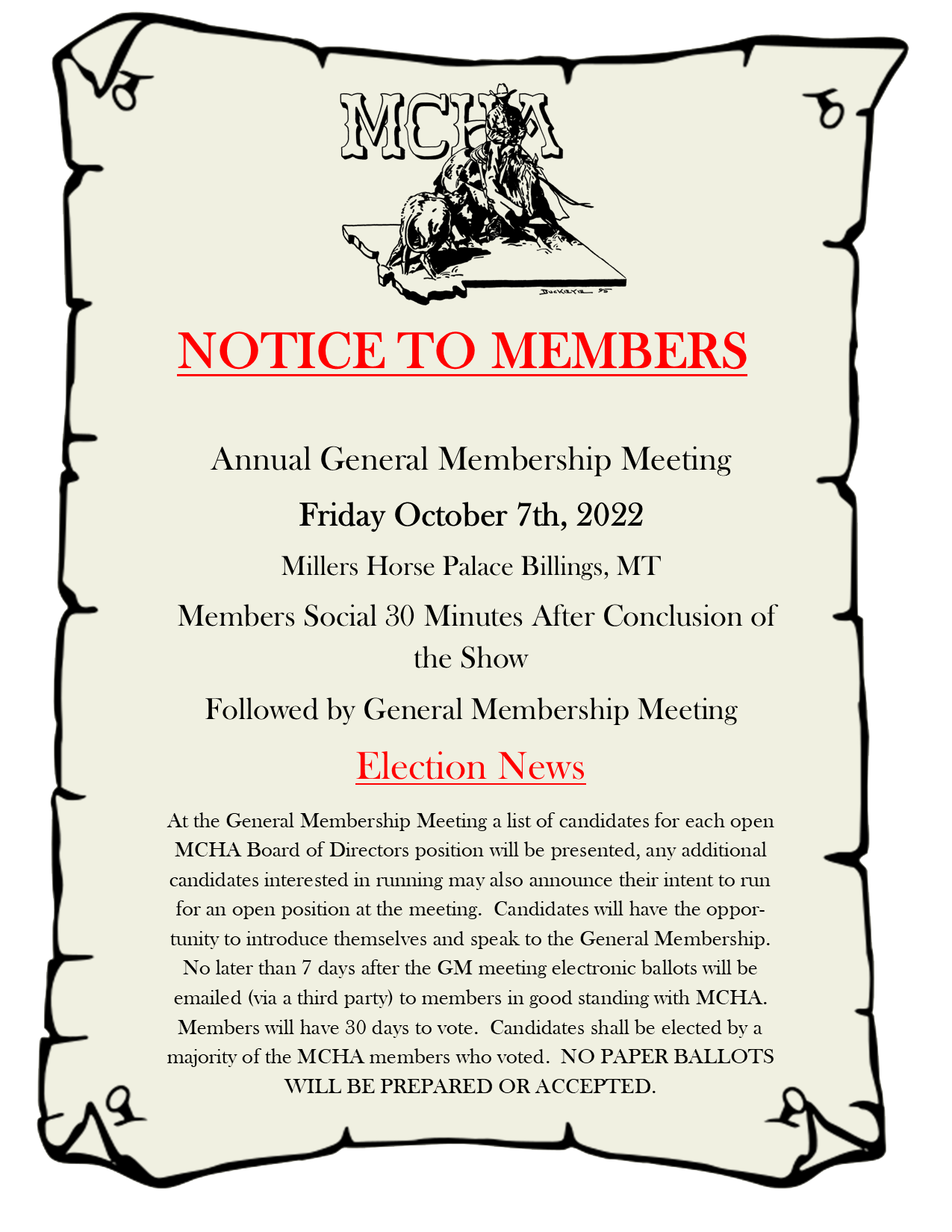 Click for larger view
Your Nominating Committee chairs are Doug Pearce, Rob Fraser and Tanya Dvarishkis. If you are interested in running for a Board position or VP please contact them or any of the other Board members.
Bronze Sponsors
Susan Swanberg
Rankin Enterprises
Nancy LaCounte and Rita Church
Doyl & Jacqueline Fritz
Hayden Heaphy
---
NWAB Sponsors
Tegeler & Associates Insurance - WY
Prairie States Insurance Agency
Suzanne Nellen
Dorothy & John Seymour
---
Youth Sponsors
The Dvarishkis Family
Williams Horse and Cattle Company
Renea & Cory Williams
---
We want you to be an MCHA member!!!
2022 Membership Prices
Individual Membership - $35
Family Membership- $50 (Immediate family members to include Husband, Wife, and Children)
Youth Membership - $10
click here for membership application.
---
Event Photo Galleries
Be sure to check out our photo galleries!
Click here to view.