Welcome!
---
Welcome to the Montana Cutting Horse Association. The purpose of the MCHA shall be to encourage education in equine activities, interest in cutting horses and to promote the sport of cutting in and around the State of Montana.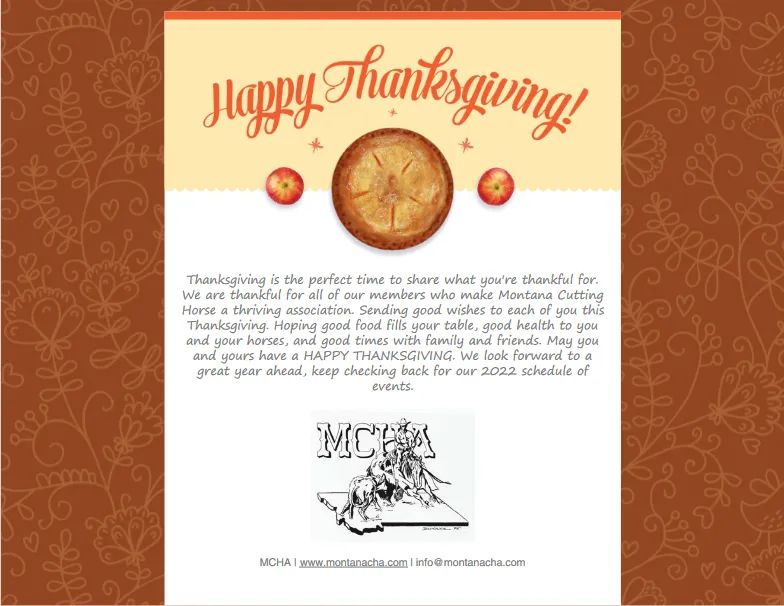 ---
Thank You
Thank you for submitting your questionnaire for our MCHA board to review. If ANY member has comments, ideas, suggestions and constructive criticism--we are all ears. Please reach out to our board members(contact's are on our webpage)----we are here because of you! No idea is a bad idea. Also, if you want to be involved in ANY part of our association---- we love to have extra hands and more member involvement. THANK YOU MONTANA CUTTING HORSE ASSOCIATION. 2022 is going to be a good one.
Year End Recap
What a year we had, here is a little recap of our year end show. Check out these photos again if you didn't catch them on our MCHA Facebook page. Congratulations to our winners, and all members that were able to compete and be a part of our events. Thank you for being an asset to our association, we are thankful!
---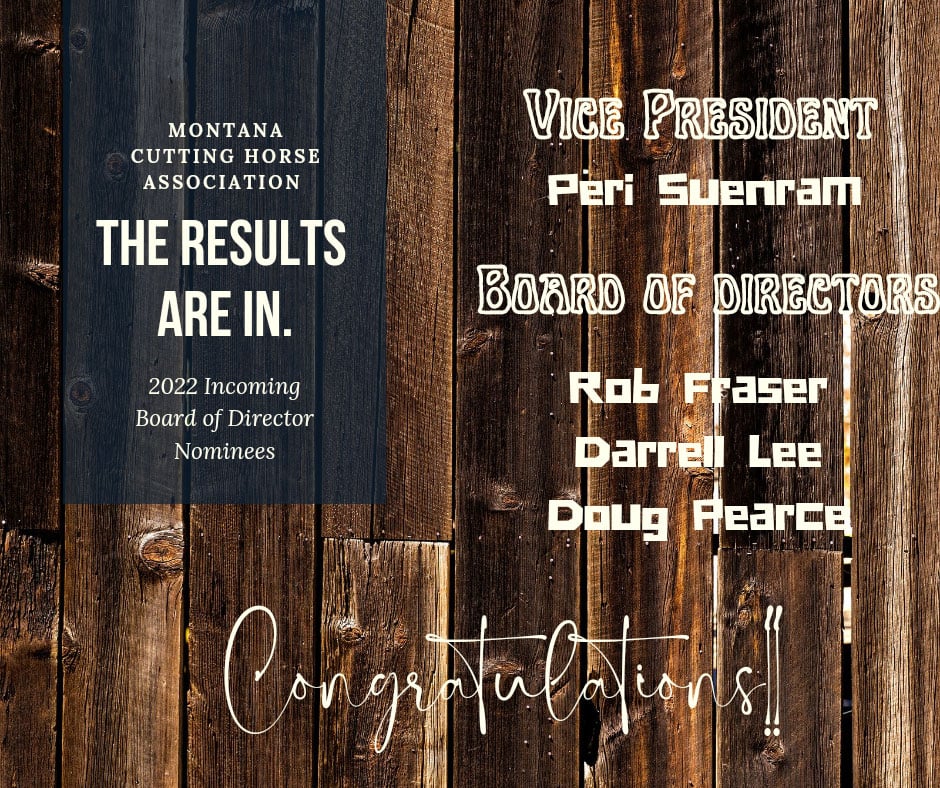 ---
We would like to thank all our members, our sponsors, our producers and event venues---EVERYONE involved in our 2021 Montana Cutting Horse Season. Look for upcoming schedules for 2022 and upcoming information, as well as our MCHA Board nomination results! 2022 season, here we come! Enjoy your fall and winter season!
---
NATIONAL DIRECTORS' REPORT TO MCHA MEMBERS
There continues to be a lot of discussion concerning the $50,000 Amateur class at the weekend level. The leveling system that has been put in place for Limited Aged Events has proven to be successful in creating a true level playing field for entries in the Open, Non-Pro and Amateur. This provides protection of the entry level in each division. It also provides the opportunity for cutters who have had past success in the show pen, but not recent success, to have a place to roll back into a division where they feel they can compete on an equal basis. However, this is not the case at weekend shows.
Joe Kalt, who is a member of the Growth and Development Committee of the NCHA, has used himself as an example with this issue, as he has had much success in the $50,000 amateur, and acknowledges that he was a major beneficiary of the roll-back rule, as he made the World Finals in the $50,000 Amateur at the age of 69 but had $130,000 in lifetime earnings. He states that the roll-back discourages true amateurs who are still on the rise with their cutting skills and maybe don't have access to a great horse. Under the age exception to the $50,000, there have been cutters showing in the World Finals who have won over a million dollars in the show pen. This is a problem.
Peri Suerum put together numbers in 2020 from the winter Las Vegas show where it proved that cutters with more than $50,000 in lifetime earnings were a minority of all the competitors in the $50,000 Amateur class, but those cutters took the majority of the checks issued in those classes. In addition, cutters with more than $50,000 in lifetime earnings have dominated the top of the World Finals Standing.
A current proposal that has been made to the NCHA is that they push the lifetime limit on the current $50,000 amateur to $75,000 or $100,000 and eliminate all roll-back/age exceptions; create a Limited Non-Pro class that would be run as a class within a class with the Non-Pro, with show management having the option of making these stand alone classes on a show by show basis; put a limit to the Limited Non Pro class at $125,000. Another variation on the same idea is to push the lifetime earnings limit on the current $50,000 Amateur up to $75,000 or $100,000 and eliminate all roll-back/age exceptions; create an Unlimited Amateur class that would be run class within a class with the Non-Pro with show management of having the option of making these stand alone classes on a show by show basis. One of the problems with the numeric amount of the $50,000 amateur class is that it wasn't raised with all other classes and left too small of a gap between the $50,000 Amateur and the $35,000 Non-Pro. Cutters who are coming out of the $35,000 Non-Pro who aren't actually ready to compete in and be successful in the Non-Pro blow through the $50,000 limit too quickly.
We would be interested on your thoughts regarding the above ideas/proposals.
The Big Sky Circuit Finals are completed and were a big success. The WCHA and Jack Enright were instrumental in putting on this show. Jack, particularly, deserves big kudos from the NCHA membership for all of his hard work. Josh Valdez and Steve Norris, outgoing NCHA President, attended the event on behalf of the NCHA. The finals were well-attended and according to Jack were "absolutely brilliant and everybody loved it!" The NCHA provided beautiful awards. As this was the first circuit finals to be completed in the United States, the NCHA is using the Big Sky Circuit Finals as a template for the remainder of the circuits. We are aware that circuit concept is a work-in-progress and there will be some tweaking to be done in the future but are really excited for the future of the circuits in upcoming years. We have been approached by members who would like to see the Big Sky Circuit boundaries readjusted and some members expressed their concern about the lack of communication concerning the change of date and location of the finals. These are items that will be addressed by the NCHA. We would appreciate anyone's thoughts on the NCHA circuits.
The NCHA has put together a new entry structure for the 2022 NCHA Championship Futurity. Open horses have a single entry fee of $3,300 that will automatically enter horses in the Open, Intermediate Open and Limited Open levels based on the eligibility of the rider. Non-Pro entries will have the same single entry structure with a fee of $2,900. Riders will be automatically entered based on their eligibility into the Non-Pro, Intermediate Non-Pro and Limited Non-Pro levels. Eligibility levels are based on the current NCHA leveling structure.
The NCHA has produced a very-well done commercial that will air with the premier of Yellowstone. Make sure and watch it and tell your friends and family too. We really think this commercial will generate more interest, membership and participation within the NCHA.
Once again, please do not hesitate to contact Kathy Foote at (406) 223-7801; kathy@tsquareranch.com; or John Seymour at (406) 660-4452; johnseymour48@gmail.com, with any questions or concerns. Also our Region EC member, Kristen York, (970) 449-3047, is always available to answer any questions or concerns. Kristen has represented our region with tenacity and professionalism, and we are very lucky to have her as our representative.
---
GET YOUR MCHA LICENSE PLATE!
MCHA is proud to introduce their new plate design! We would like to extend a huge THANK YOU to Todd & Lee Wirthlin of TLC Ranch for all their hard work on the production of the updated plate.
Next time you register or renew a vehicle or wish to purchase a new plate for your horse trailer, ask for the MCHA plate! This is a HUGE part of MCHA's income, help support MCHA! Click here for more information
---
2021 Show Schedule
Visit our show schedule page for show flyers
| | | |
| --- | --- | --- |
| Date | Show | Location |
| January 18-20 | Black Hills Stock Show | Rapid City, SD |
| March 24-28 | Idaho CHA Spring Show | Nampa, ID |
| April 16-18 | Millers Horse Palace | Laurel, MT |
| April 21-25 | Utah CHA Ogden Cutting | Ogden, UT |
| May 14-16 | Wyoming CHA | Gillette, WY |
| May 20-23 | Bonina Cutting | Eltopia, WA |
| May 28-30 | Boise Valley Cutting | Star, ID |
| June 10-13 | Montana CHA | Dillon, MT |
| June 22-27 | Crazy Mountain Cutting | Livingston, MT |
| July 9-11 | Wyoming CHA | Wheatland, WY |
| August 9-15 | Montana CHA | Big Piney, WY |
| September 16-18 | Millers Horse Palace | Laurel, MT |
| September 23-26 | Circuit Finals | Torrington, WY |
Please visit our show schedule page for entry forms and info.
Bronze Sponsors
Susan Swanberg
Rankin Enterprises
Nancy LaCounte and Rita Church
Doyl & Jacqueline Fritz
Hayden Heaphy
---
NWAB Sponsors
Tegeler & Associates Insurance - WY
Prairie States Insurance Agency
Suzanne Nellen
Dorothy & John Seymour
---
Youth Sponsors
The Dvarishkis Family
Williams Horse and Cattle Company
Renea & Cory Williams
---
We want you to be an MCHA member!!!
2021 Membership Prices
Individual Membership - $35
Family Membership- $50 (Immediate family members to include Husband, Wife, and Children)
Youth Membership - $10
click here for membership application.
---
Event Photo Galleries
Be sure to check out our photo galleries!
Click here to view.
---
Big Piney Cutting Weekend & LAE
August 10 -15, 2021
Click to view photos
To view/purchase photos: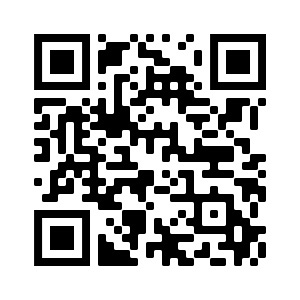 Mt Chic Photography 406-794-9538
---