News
Congratulations!
Gage Banner
MCHA Youth Rookie of the Year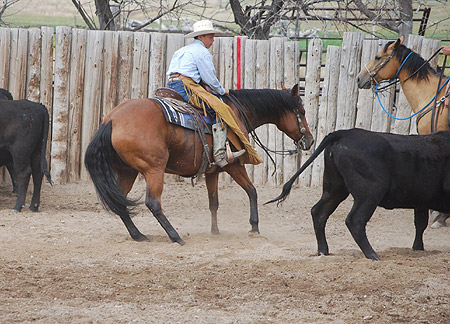 Tell us about your cutting experience:
How long have you been cutting? 4 years

What initially interested you in the sport? When my dad, Todd Banner, started teaching me.

Which horse gave you your first cutting horse ride? Tom Tucker Smoke (Tommy)

Have horses always been a part of your life? No, but since I was nine they have been apart of my life

Favorite Cutting Horse Show: In Kalispell at the Big Sky Aged Event
Most memorable winning run: 2018 in the NWB class when I won with a 72 on HR Smarty Cat

Tell us about your cutting horse / horses:
Nickname: Tommy, Smarty, and Skipper

Horse's Age: Tommy was 22 before he died, and Smarty was 11 before we sold her, and Skipper is 7
Sire: Tommy's was Shotgun Gertie, Smarty's was HR Cat Olena, and Skipper's is Highbrow Mecom Blue
Dam: Tommy's was Shotgun Gertie, Smarty's was HR Ldee Lena, and Skipper's is Little O Classy Bars
NCHA Earnings: Tom Tucker Smoke won $4,393.92, and Smart Litl Blue Cat (Skipper) has won $3,149.65

Who bred and raised your horse: Tommy was bred and raised by James Bagwell before we had him, Smarty was bred and raised by Melvin D Hutchings before we got her, and Skipper was bred and raised by Theodore Coursen before we got him to train

Special story or quirk that is unique to your horse: Tommy was the first cutting horse I had ever ridden

Biggest win: On HR Smarty Cat when I got first in the NWB class with a 72

What does it mean to you to be the 2018 MCHA Class Champion / Special Award Recipient? It means a lot to me to be the Youth Rookie of the year, because of all the people that have helped me along

2019 Goals in the cutting pen?
Who or what inspires you? My family and everyone that helps em along to become the best cutter that I can be

Favorite Quote: The Lord is my rock, my fortress, and my deliverer; my God is my rock, in whom I take refuge, my shield and the horn of my salvation, my stronghold.
Psalm 18:2

Hobbies / Interests outside of the cutting pen?
I like to hunt, work with my two year old colt (Gunsmoke Gertie,or Gertie), rope, Ranch work, Football, 4-H, and construction.

Anything else you would like to add:
A special thanks to my dad and mom (Todd and Kate Banner) and to everyone else that has helped me along
---
Congratulations to Ashley Sherman the 2018
Rerun Cattle Shootout Champion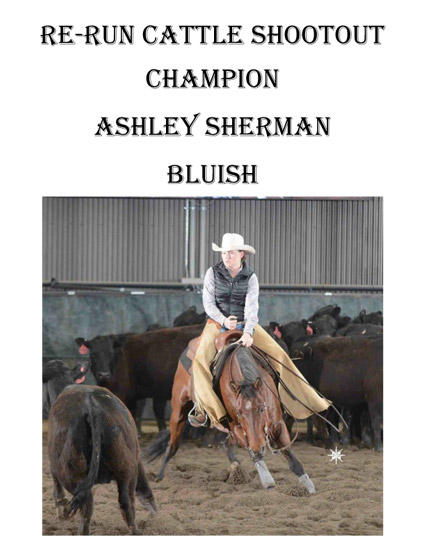 Congratulations to all the 2018 MCHA Class Champions!
Not Pictured
Open: Scat Cats
Rider: Russ Miller
Owner: Russ & Jill Miller

Sr Youth: Molly Gans
Tea With A Twist

$1500 Novice Horse:
One Time Dancer
Owner:Clayton Turner
Rider: James Johnson

Non-Pro/Amateur Most Money Won:
Robert Keith of
Trout Creek Ranch

MCHA Senior World Tour Champion:
Joseph Kalt
---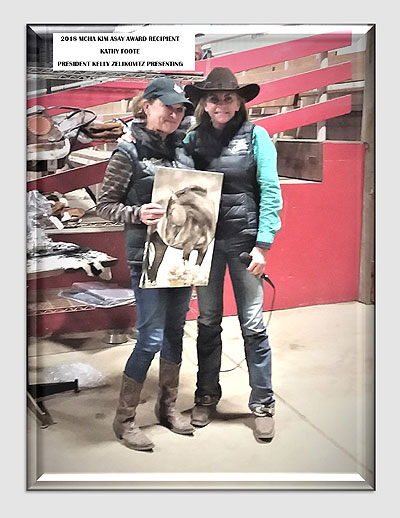 CONGRATULATIONS TO KATHY FOOTE
RECIPIENT OF THE 2018 KIM ASAY AWARD
Member Spotlight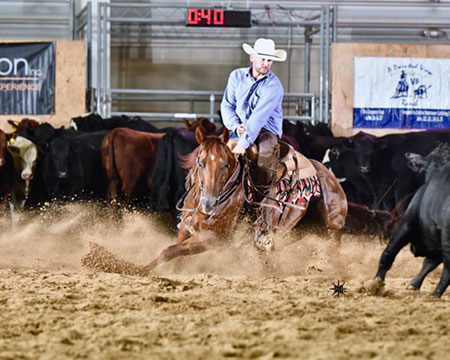 2018 MCHA ADULT ROOKIE
OF THE YEAR - JB COX
Tell us about your cutting experience:

How long have you been cutting? This is my second year of cutting. I started showing last cutting season of 2017 in the UCHA shows.

What initially interested you in the sport? Well, I think the same with the rest of us… The horses! Horses are amazing animals and true athletes.

Which horse gave you your first cutting horse ride? I purchased a cutting horse in the summer of 2016 from Tim Denton when I went for a week vacation in Weathford, Tx. I got my first ride when I brought her back to Utah and started practicing as much as I could at the Denton farm with the Denton boys (Luke & Kip).

Have horses always been a part of your life? No, I was raised in a construction family, so big machines were mostly part of my life. I got my first horse from my brother who was going to take him to the "meat wagon" because he was too old. I felt he had some more life in him so I took him and road him for few more years.

Favorite Cutting Horse Show: Oh, gosh….This whole 2018 cutting season has been my favorite. It's hard to pin point just one. We have had a blast at each one this year.

Most memorable winning run: I would have to go with my 74 in Livingston. It's pretty sweet when the judge announces a new personal high score for the first time. That one felt pretty good! Still waiting for that 75.

Tell us about your cutting horse / horses:
Nickname: Rocky, You got me Rockin
Horse's Age:13
Sire: Smart Lil Ricochet
Dam: Bit of Starlight
NCHA Earnings: 17,764.71

Who bred and raised your horse: Breeder was Art & Sandy Haskins Foaled in California. We purchased him from Ben Royal who had him for the last few years in training.

Special story or quirk that is unique to your horse: Rocky is just a real calm cool, dude. Not much bothers him, which generates back into the rider. I guess a good story would be when we purchased him. I had to buy him sight unseen. Luke Denton, my trainer, had told me "You better not! GO out and ride him first." When I talked to him about getting him. Well, we were actually second in line to buy. I thought we wouldn't end up with him anyway. Well long story short, we got a phone call a day before Kelsie's Birthday saying, "He's yours if you want him. We need a Yes or No. If not will move to the next." Of course I said "YES!! We want him." We got the deal done and I told Luke he was coming home to Utah. After a few rides we saw his true talent. Luke told us "You got lucky!! Don't do it again!!" We ended up with a great horse and couldn't be happier.

Biggest win: All wins are big wins in my book.

What does it mean to you to be the 2018 MCHA Class Champion / Special Award Recipient? Actually, it means a lot. It's the first award I have received in cutting, so it will always hold special memory for me. Thanks again MCHA!

2019 Goals in the cutting pen? My 2019 goal will be to try and make it to Fortworth, TX in the 15k. Wish me luck.

Who or what inspires you? I really just inspire to be a better man each and every new day.

Favorite Quote: Anyone who knows me, knows it's got to be a Lonesome Dove Quote… "If you want any one thing too badly, it's likely to turn out to be a disappointment. The only healthy way to live life is to learn to like all the little everyday things – like a sip of good whiskey in the evening, a soft bed, a glass of buttermilk, or a feisty gentleman like myself." -Gus

Hobbies / Interests outside of the cutting pen?
Cutting and riding horses has pretty much been my hobby and interest for the past several years. Is there much time for anything else? lol

Anything else you would like to add: Any special thanks?
Huge thanks again to MCHA board for the award. It really means a lot! The Denton Boy's, Luke and Kip for letting me tag around them at the barn, asking rookie questions and mistakes until they took me serious enough to give me lessons and show. Last but not least…My ride or die and all-around best loper, Kelsie joe Savage. Thanks for all the support. Love ya babe.

JB Cox